Professional Balloon Artists Wolverhampton
Nicole's Balloons shop in Wolverhampton has been established for over 10 years providing balloon decorations and deliveries for all occasions and budgets.
Children's parties, christenings, birthdays, weddings, prom night, corporate, business - Whatever the occasion, why not enhance your event with our range of stunning balloon decorations. We also offer a range of DIY balloon packages, helium bottle hire as well as balloon races and releases. No matter what the occasion is, whether a small kids party to a grand scale wedding ceremony, we are here to help you.
Helium Balloons
There are so many ways to utilise balloons thanks to the vast amount of colours and styles available. Balloons can be used to decorate venues for weddings, birthdays, everyday parties, christenings, anniversaries, prom nights and so much more. Balloons can be used for public events such as a fundraiser, a grand opening and new product launch. The options are endless.
We cover Birmingham, Cannock, Dudley, Stourbridge, Telford, Walsall & Wolverhampton.

B43, B64, B65, B69, B70, B71, DY1, DY2, DY3, DY4, DY5, DY6, DY7, DY8, ST19, TF11, WS1, WS10, WS11, WS12, WS2, WS3, WS4, WS5, WS6, WS8, WS9, WV1, WV10, WV11, WV12, WV13, WV14, WV15, WV2, WV3, WV4, WV5, WV6, WV7, WV8, WV9

We also offer the following balloon services

DIY Balloon Packages
Helium Bottle Hire & Disposable Helium Bottles
Balloon Races and Releases

Our retail shop also stocks thousands of products covering party items such as banners, candles, table confetti, gifts for all occasions, greeting cards, candles, bath bombs, jewellery as well as brands including Me To You, Fizzy Moon. Our range of goods and services are ever increasing and we are always looking to offer our customers the best possible deals without compromise on quality or service. We have a staff complement with exceptional skills and customer service.
Discuss your requirements
Why not pop in to our shop and discuss your balloon arrangements with one of our friendly and helpful members of staff. We are open Monday to Saturday from 9.00am till 5.30pm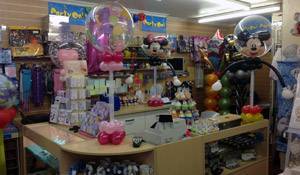 A video of our balloon decorations installed around the West Midlands, Shropshire and Staffordshire.